Medi-Pedi
We were the first in Kent to introduce the exclusive 'Medi-Pedi' and ours is performed with a difference.
Unlike the standard fluff and buff and short term results of a standard pedicure, the Medi-Pedi helps those who have skin and nail conditions to address as well as giving a flawless, manicured finish.
The Medi-Pedi means doing a complete foot, nail and skin analysis and client consultation before performing the service. Medi-Pedi's are much more clinical, medical advice is given and sterile instruments are used in conjunction with thorough record keeping.
The Medi-Pedi is performed by a medical professional and finishes with an aesthetic look.
This luxurious, pampering treatment starts with a herbal foot cleanse, followed by an exfoliating scrub and wrapping the feet in hot towels. A full and thorough podiatry treatment is performed to tidy the feet from all hard skin, corns and to get the nails in pristine condition. The skin is then sanded down with a professional, medical machine. A foot mask is then applied, and then hot, paraffin wax is layered on your feet and covered in booties. After this, creams and sprays are applied on your legs and feet making your skin feel amazing and look so wonderful too. Treatment winds down with a relaxing lower leg and foot massage finishing with an application of either A 100% toxic free nail polish or a choice of other brands such as Chanel (an extra massage for the gentlemen).
3 Packages to choose from:
'PURE' – Organic/Natural Products
'SENSATIONAL' – Ayurvedic Products
'LUXURY' – La Prairie – Caviar for feet & exclusive hand picked products
Treatment Time is up to 65 minutes.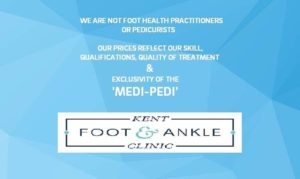 Kent Foot & Ankle Clinic Cancellation Policy
Patients will be charged in full for any appointment missed, cancelled or rescheduled without giving 24 hour notice.