Acupuncture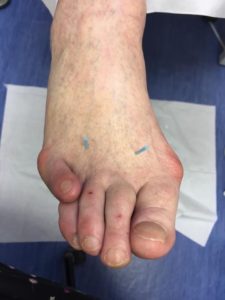 Acupuncture is a very old therapy technique. Our acupuncture techniques are known as Western or Medical acupuncture and are used for pain relief only. Needles are inserted at individually determined points of the body. We use only high quality, disposable sterile needles.
A full assessment will be given and it is important that you give the Podiatrist a full medical history to ensure that acupuncture is a suitable treatment for you.
Acupuncture has shown to greatly benefit short term pain relief. Conditions that respond well to Podiatric Acupuncture are:
Leg – Plantar fasciitis, Heel Pain, First Metatarsal Pain, Metatarsalgia, Mortons Neuroma, Digital Neuritis.
Feet – Achilles Tendonitis, Acute and Chronic Ankle Pain, Ankle and Knee Instability, Shin Splints, Tibialis Muscle Syndromes, Restless Leg Syndrome, Intermittent Claudication, Cramps.
Other – Scar Pain, Arthritis, Aching Feet With No Other Symptoms, Post Fracture Pain.
Kent Foot & Ankle Clinic Cancellation Policy
Patients will be charged in full for any appointment missed, cancelled or rescheduled without giving 24 hour notice.